Busy Day? Have A Revvies !
Our Aussie energy strips will help you keep focused and alert through the day. No queuing. No sugar. Just a faster great Cola and Lemon tasting boost.

Each Revvies Extra Strength strip contains 100mg of caffeine, which is the same as a strong cup of coffee, and with 5 strips in each pocket sized pack you'll always have a boost when you need it.

Revvies are like having a coffee in your pocket, and they cost a lot less per serve than a takeaway coffee!

Designed to provide elite athletes with an almost instant boost, so they can perform at their best, Revvies will keep you powering through your work day, whilst avoiding that afternoon slump.

"Revvies are more effective that any supplement I have tried before. I now use them before every training session and on race day. I recommend you try Revvies. They work for me."

Eloise Wellings, Dual Australian Olympian.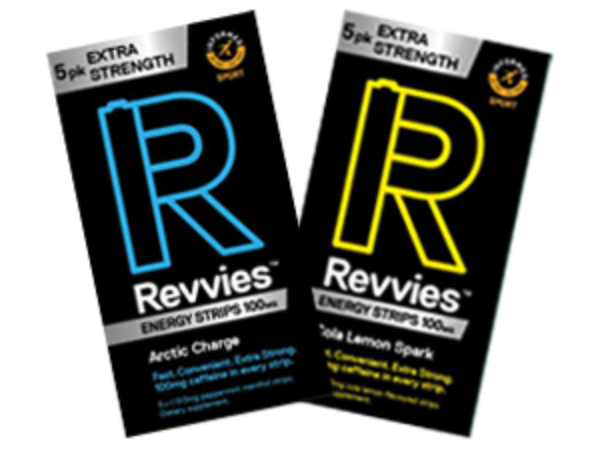 Revvies Extra Strength Intro Pack (2 x 5pk)
LIMITED OFFER - Ends 30th June 2020 Receive 10 Extra Strength Strips For just $10 including free shipping. Each Revvies Extra Strength Cola Lemon 100mg strips provide a powerful, great tasting, fast, convenient, sugar-free way to do energy. These strips are designed for those that need a bigger hit to get going, each strip contains 100mg of caffeine (approx. 1 x espresso or 1.25 x energy drink 250ml can). And this bundle provides a great way to trial Revvies for just a $1 per strip.
View details
Aussie Dual Olympian Eloise Wellings
Great service and the strips are really easy to use when running. Tried them in training for my first half marathon. Really like them and a great alternative to gels which can be tough on the stomach when running. Thanks!


Janine Tennille
Verified Buyer
I was a bit sceptical, so I decided to try it for myself over a 5km distance, it was great, ran a PB by more than a minute. Overall I was very impressed....a future user for sure!



Gary Boyle
Verified Buyer
Great caffeine boost! I run a lot! Tried the Revvies strip for my 13 mile long run and gives a great boost when needed! I still hydrate as well, but the caffeine hit has helped a lot and most importantly is a quick and convenient way to take while running!
Erika Archer
Verified Buyer
Every Batch Tested For Purity
Revvies accreditation through both the Informed-Choice and Informed-Sport quality assurance programs, provides athletes and consumers with peace of mind, as they know every batch is tested for WADA banned substances by the world class sports anti-doping lab, LGC before going on sale. Is this really needed? Unfortunately, the answer is yes, because independent studies have continuously shown that on average 1-in-10 products is contaminated or spiked with a WADA banned substance, many of which pose health risks to users.