Revvies Energy Strips Arctic Charge (1 x 5Pk)
Sale price Price $4.00 Regular price
Fast Facts
Each strip contains 40mg of caffeine.

Delivers a fast physical and mental boost when you need it.

Dissolving on the tongue in just seconds.

Can be taken without water.

Allows caffeine intake to be managed separately from carbohydrates and fluids.
Revvies Energy Strips have been designed to deliver an almost instant physical and mental boost when you need it. Having a refreshing peppermint and menthol flavour, Revvies Arctic Charge strips are fast to use, can be taken without water, and are light and easy on the stomach. Each packet contains 5 energy strips.

Each strip contains 40mg of caffeine (approx 1/2 a can of a 250ml energy drink), and are vegan, gluten-free, and less than one calorie. 
Revvies Energy Strips are used by professional runners, cyclists, triathletes and sports teams to achieve optimal performance in training and on race and game day. They are also great as a pre-workout boost.
The caffeine in Revvies will help you maintain focus and allow you to train and race at peak performance for longer by masking feelings of fatigue, reducing perceived effort, and helping convert fat to energy.
With regular consumption (1-2 strips prior to exercise, then one strip every 45 - 60 minutes of exercise), Revvies Energy Strips can help you to burst through your barriers and achieve your goals.
They are suitable for all levels, and all forms of exercise from running 5km to long endurance events, and from gym workouts to team sports like football, netball, and rugby.
Accredited through the Informed-Sport quality assurance program, athletes and consumers alike can have peace of mind about the safety and quality of our products.
"I love Revvies...Fast, convenient and easy on my stomach."
– Eloise Wellings, Dual Olympian and 9 x National Champion.
More about Revvies Energy Strips Arctic Charge (1 x 5Pk)
Benefits
You may be aware of studies that show caffeine can enhance physical performance, mental clarity, concentration, memory, alertness and can help keep you awake. But did you know there is now research that indicated that that small frequent amounts of caffeine can often work better than one big dose.
Revvies is a Fast, Convenient and Sugar-free way to have a quick caffeine boost on the go.
Here are 5 reasons to try a Revvies:
Fast – The strip dissolves on your tongue in 20-30 seconds.
Great when you don't have time to stop.
Convenient – It's so easy to keep a 5-pack with you.
As Revvies are small it's easy to stash a 5-pack in your pocket, sock, gym bag or glovebox, or just about anywhere else you can think of, so there's no need to find a store or queue every time you want a caffeine boost.
Sugar and gluten free and less than 1 calorie per strip.
Unlike many caffeinated drinks or types of coffee such as lattes, Revvies has less than 1 calorie.
Great before or during exercise.
Because Revvies are so fast and easy to carry they are perfect for athletes both before and during exercise. And there's no worries as each batch is tested by an independent lab as part of the requirements of the independent Informed-Sport program quality assurance program.
Cheaper per serve than caffeinated drinks or shots.
With a recommended retail price of just $4.50 for a 5-pack, Revvies cost just $0.90 per serve.
Informed-Sport
Informed-Sport is an independent quality assurance program for sports nutrition products. The program is designed to analyse nutritional supplements and their ingredients for inadvertent contamination with substances prohibited in sport.
Research has shown that some supplements have been found to be contaminated with low levels of steroids and stimulants that are prohibited by WADA, the World Anti-Doping Agency. The program certifies that all nutritional products and ingredients that bear the Informed-Sport logo have been tested for banned substances by the world class sports anti-doping lab, LGC.
Informed-Sport work closely with manufacturers and brand owners by providing ISO 17025 approved analytical testing to minimise the incidence of banned contaminants finding their way into sport. They also work with a variety of international sports administrations, in Australia this includes the AIS, NRL and AFL.
Revvies Energy Strips are proud to be the second Australian company and the first in New Zealand, to achieve this certification.
Ingredients
Every Revvies strip contains 40mg of caffeine (equivalent to ½ a cup of coffee). The caffeine is encapsulated in vegetable oil, which is infused on a starch base, with a small amount of flavouring and sweetener. Revvies are gluten-free, sugar-free and less than 1 calorie per strip.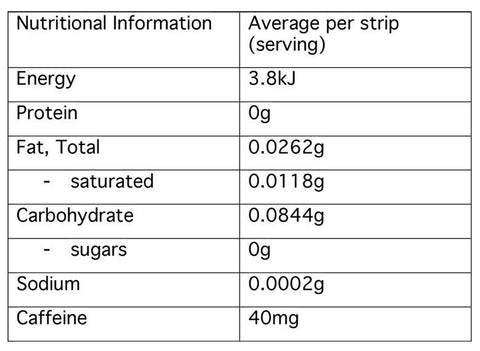 Ingredient list – Arctic Charge:
Starch, Thickener (Hydroxypropyl cellulose), Caffeine, Hydrogenated Vegetable Oil (may contain soybean oil), Sweetener (Glycerol), Maltodextrin, Anticaking Agent (Cellulose microcrystalline), Flavouring (Peppermint), Thickener (Xanthan gum), Flavouring (Menthol, liquid), Sweetener (Sucralose), Emulsifier (Sucrose esters of fatty acids), Colouring (Billiant blue FCF).